Sage Inventory Advisor
Reduce excess inventory. Reduce working capital. Reduce stock outs.
Sage Inventory Advisor is an affordable cloud solution that helps companies reduce excess inventory and working capital. It connects to Sage ERP data to deliver health-checks on the inventory that makes a difference to the bottom line, reduce the time spent on forecasts, and solve for the optimal investment required to achieve target fill rates.
A web-based and mobile solution, Sage Inventory Advisor is easy to use and slashes time spent on forecasts and ordering. It can be implemented cost effectively and used in just hours.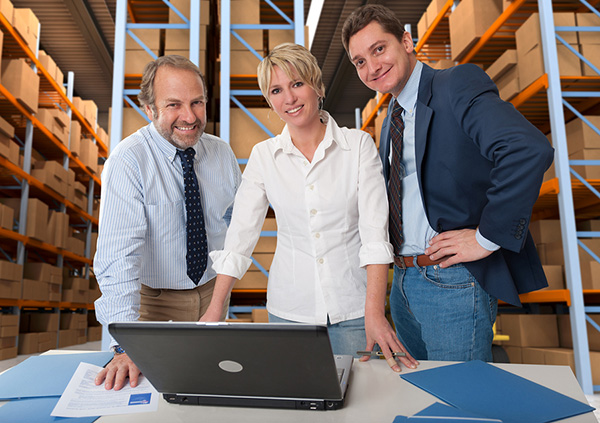 Business Benefits
Reduce excess inventory by 10%-15%.
Reduce excess inventory by continuously monitoring all the risks inherent in the inventory and setting optimal safety stock to mitigate those risks.
Reduce working capital and free up 15%-20% of cash tied into inventory.
Identify potential problem items and get inventory level status based on calculated metrics to help make better planning and buying decisions.
Improve fill rates by 2%-10% and reduce stock outs.
Analyze real-time sales and inventory data, produce quality forecasts, and obtain optimal replenishment recommendations for better fill rates.
Reduce time spent on forecasting by 50% and save money.
Eliminate manual forecast import/export and calculation and dynamically transmit inventory and forecast data for calculation and analysis.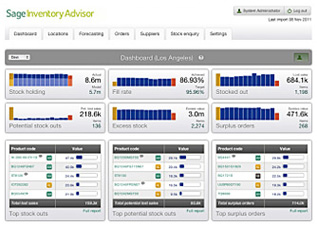 Track performance and identify problem SKUs through
interactive dashboard with
drill down features.
Anytime, Anywhere Inventory Advice
As a cloud-based solution, Sage Inventory Advisor can be implemented in just few hours and is accessible anytime, anywhere. It requires no local hardware installation and provides worry-free updates and maintenance.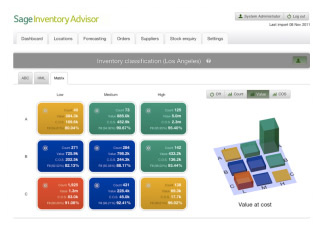 Focus on the items that matter to you with the value
and velocity classification matrix.
Leverage the sophisticated forecast engine to account
for seasonality and trends with manual override.
See how you can reduce your excess inventory, reduce your working capital, and reduce stock outs. Let us help you.